IMAGES OF MODIS SATELITE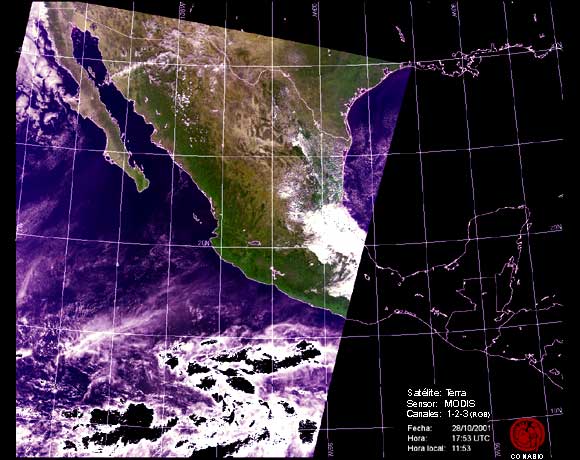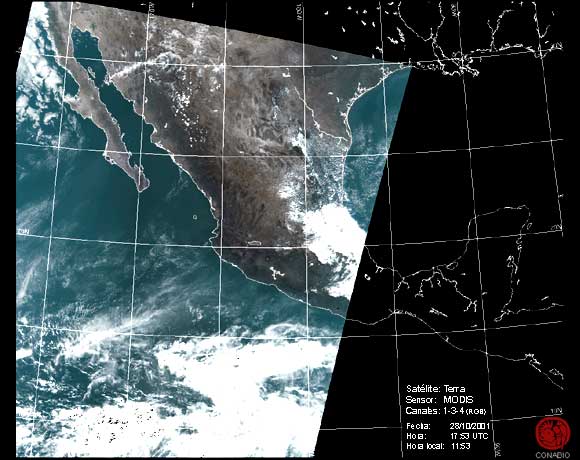 Satellite image of the MODIS sensor received with the reception system located in Conabio.
The image is presented with two different band combinations.
On October 17, Conabio, in collaboration with SEMARNAT and backed by SEGOG-CENAPRED, received an antenna to collect satellite data on atmospheric, oceanic and land phenomena, which allow for fortifying programs such as the detection of hot spots which helps to identify forest fires, the monitoring of ecosystems, among others.
The antenna receives images from the MODIS sensor of the TERRA-1 satellite. This satellite forms a part of the Earth Observing System (EOS) mission of NASA. The sensor was created to capture images of the atmosphere, the land and sea, and transmits data on 36 bands which range from the visible spectrum to the thermal infra-red, with a spatial resolution of 250, 500 and 1000 meters, which means that it transmits more detailed images than those currently obtained by the AVHRR reception system also used by Conabio.
TERRA-1 was launched in December 1999; it is expected that the Aqua satellite will be placed in orbit in April 2002 and that the images from the latter will be received by Conabio's antenna.
Conabio considers that the current program for detecting hot spots based on AVHRR satellite images will be extended with the new information of MODIS images during the next fire season in 2002. The information obtained for this program will be published and distributed via the www site of Conabio.
Some photographs of the assembly process of the antenna are presented below.